Hurricane Harvey wreaked havoc, leaving devastation in its wake. But it also brought the country together. We watched as civilians risked their own lives to help others. We saw humans put their lives on the line to save animals. Of course, this natural disaster was a tragedy, but in many ways it reminded us all what hope looks like.
A photo of a dog named Otis carrying a bag of dog food went viral almost instantly. This photo captured hearts across the world. Why, you may ask? Some argue it's because we think dogs are adorable. And of course, that is true. But Otis also painted a picture all about resilience. After seeing image upon image of heartbreak, there was this one image of TRIUMPH!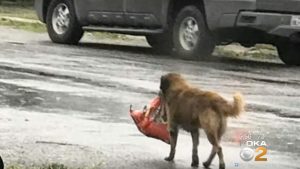 Otis got loose from his owners during the storm, just hours before the eye hit. Even though Otis was all on his own, he managed to survive. The next morning, he was seen trotting down the road, bag of food in his mouth, making his way back home.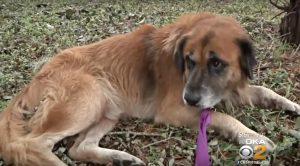 Otis's family were elated to see him. They were so relieved that he had survived and was now safe and sound. They were also pretty shocked that he brought his own provisions! Smart dog! Watch the video below to learn more about this amazing dog!
Please 'SHARE' to pass on this story to a friend or family member