<!– 336×280 ad unit –>
Choosing a new toy for your dog is an exercise in natural selection. No matter how cute or pricey it is, there's some chance that your pooch will ignore the new plaything or quickly tear it to shreds, either way leaving it for dead.
Here we present the survivors: the toys that our fans have verified to be good for hours, or even years, of play that's engaging, ferocious, and cute.
Since dogs have their own preferences—and enjoy variety—take this list as a starting point. If you're preparing for a new dog or assembling a gift, we suggest presenting the canines in your life with a few to put to the test for themselves.
Tougher than a tennis ball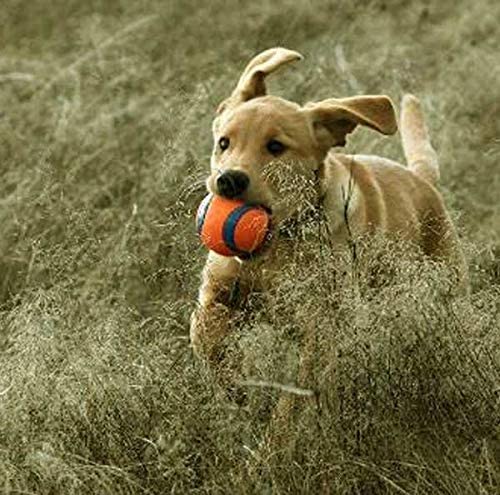 Chuckit Ultra Ball ($5 at the time of publication)
A lot of pooches love to retrieve and chew tennis balls, but tears into them within minutes. The Chuckit Ultra Ball in medium is the same size as a standard tennis ball but made entirely of rubber. It's much more difficult to chew through, so she's able to chomp on it for a while (with supervision); the balls have lasted for up to a year. Plus, the Ultra Ball is bouncier on turf than most tennis balls, which makes for more stimulating games of fetch. The bright orange hue makes it easy to spot—even in tall grass. And the Ultra Ball floats in water, so she can fetch it from a lake, too.
Soundless squeakers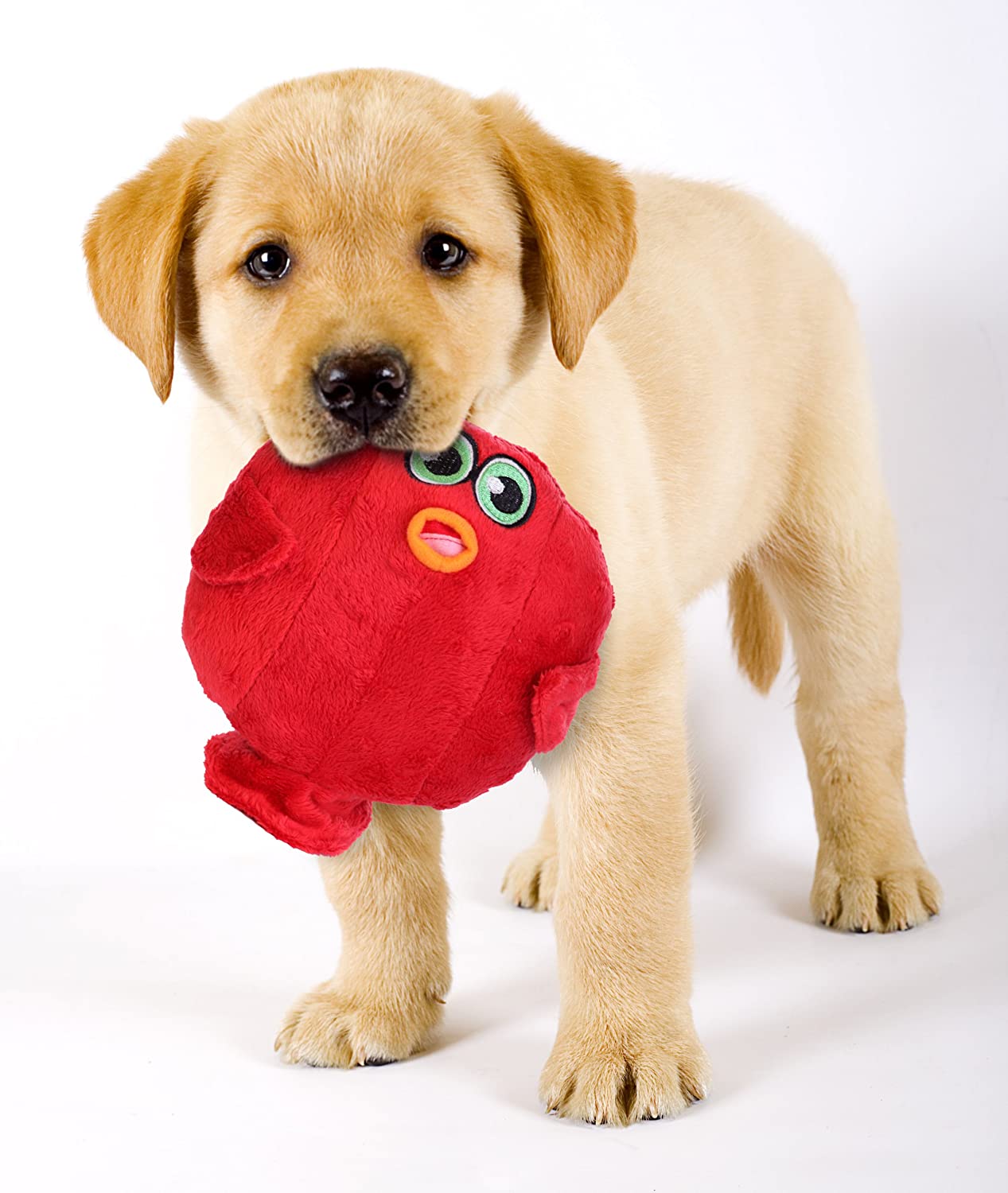 Hear Doggy ultrasonic squeaker toys ($6 at the time of publication)
Some days our pups have so much puppy energy left over from dog-park play that they just run around the house/apartment, digs out all of her toys from the toy bin, and squeaks anything she can find for hours on end. All that squeaking can get annoying. Enduring the high-pitched repetition in the wee hours of the night can drive any pet-parent crazy! Ultrasonic HEAR DOGGY! squeaker toys are made with a squeaker ONLY your dog can hear! Perfect for the office – the silent squeaker won't disturb your friends at work! Hear Doggy! plush toys give your pet the same sensation and enjoyment of traditional squeaky toys without the irritating noise!
Earn those treats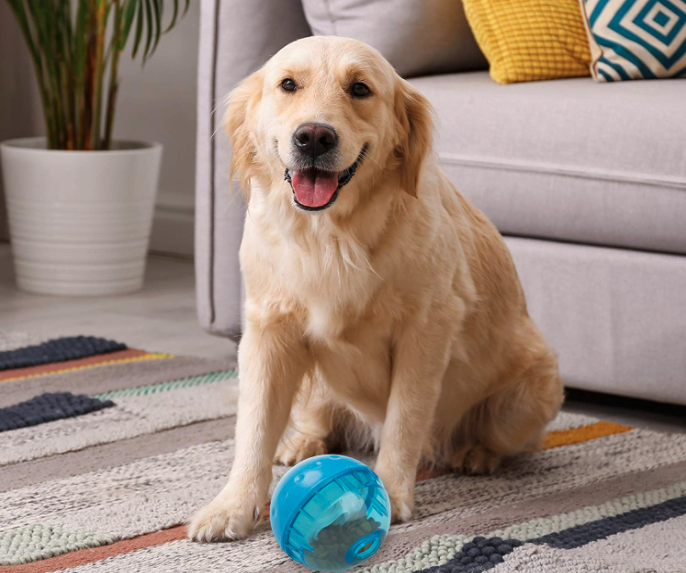 OurPets IQ Treat Ball ($12 at the time of publication)
The food-dispensing OurPets IQ Treat ball has been a favorite for years in keeping our dogs mentally and physically active as well as entertained for a half hour or more at a time. To get kibble or treats out, a pooch has to roll the ball or pick it up in her mouth and throw it. We can easily adjust the opening of the interior compartment to dispense less readily if she's up for the challenge (or go in the other direction if she's not). Some pooches love this toy so much, they prefer eating their meals from it rather than from their bowls. This ball is also one of the longest-lasting dog toys around; it's made of high quality materials that will uphold through rough and tough play. The plastic is non-toxic. And it twists apart for easy, convenient cleaning.
The chew toy that survived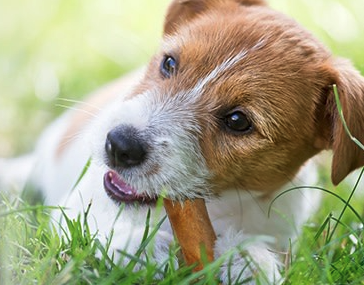 Nylabone Dura Chew ($3 at the time of publication)
Made with tough, durable nylon, the Nylabone Dura Chew Flavored Chew Toy satisfies powerful chewers. It provides long-lasting enjoyment, satisfies the natural urge to chew, and encourages positive chewing habits. Plus, the bristles raised during chewing promote clean teeth and help control plaque and tartar. The Nylabone's slim shape tucks easily into travel carriers when dog owners head out to visit family, and it keeps the peace while they're there. The classic design makes for some pretty adorable moments, too. It comes in a couple of flavors, but the original flavor seems to be the most popular.
Yummy, edible chew-toy alternative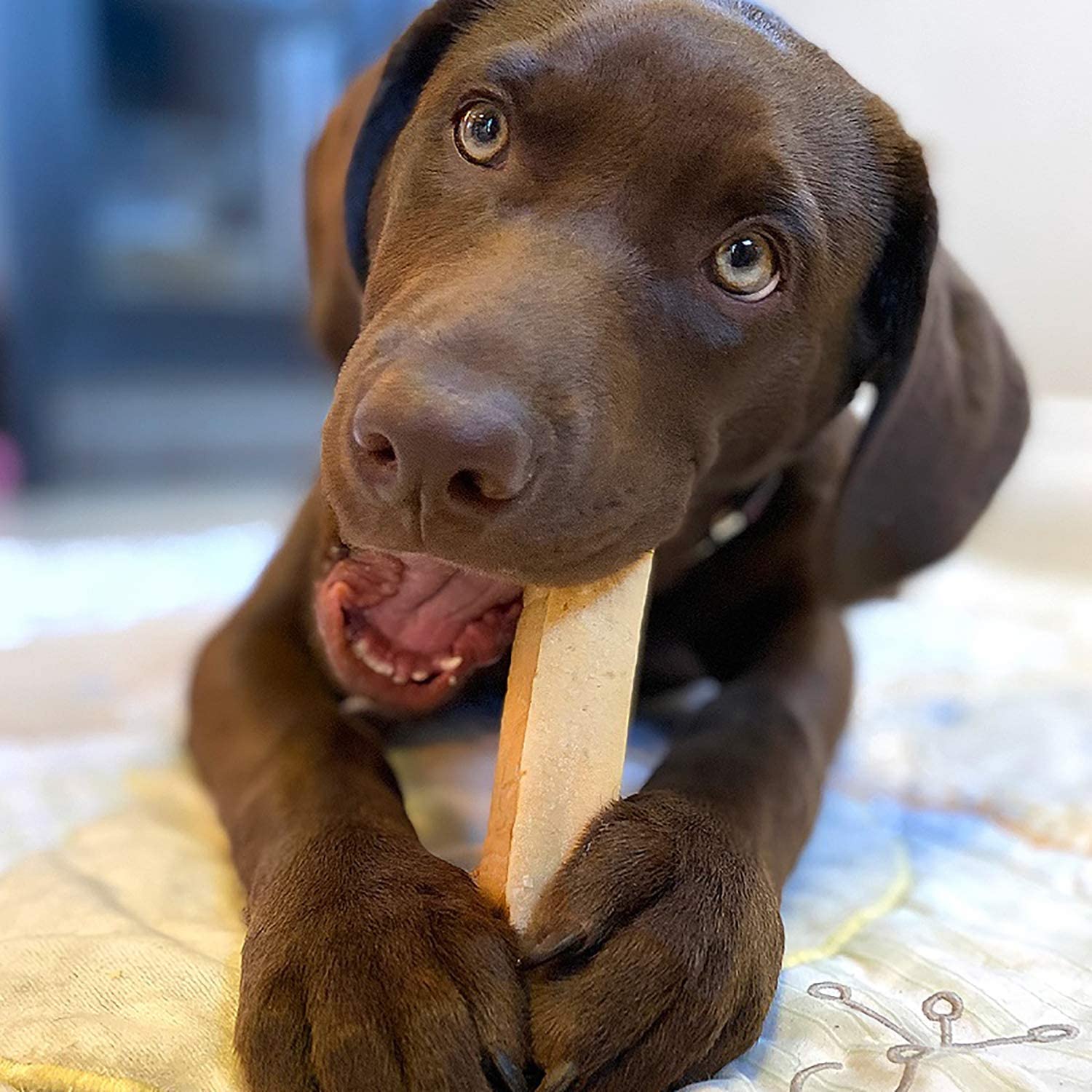 Himalayan Dog Chew ($8 at the time of publication)
Among the many dog chews on the market, like the bully sticks (hurt her gums), the antlers (made a terrible sound against her teeth), and others, the Himalayan Dog Chew has become a popular choice: a softer chew made from yak and cow milk. It's still tough enough that it lasts a few days of on and off chewing but soft enough that you don't have to worry it'll hurt your pooch's mouth. Once the chew reaches the last nubbin—which you don't want your dog to swallow whole—you can briefly pop it into the microwave to soften it into a cheesy treat.
Bouncy ball with a twist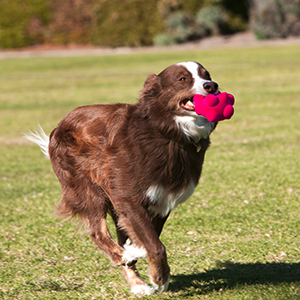 Sprong ($10 at the time of publication)
The Sprong feels soft and bounces and squeaks, and it's one of the only toys that have consistently kept the attention of many dogs. Other toys get shredded or elicit only a mild wag after a few weeks, but because the Sprong has no enticing stuffing to rip out and bounces in an irregular manner, it keeps the pooches on their toes. But big dogs, beware: The Sprong's individual nubs are small breed resistant, but they may not stand up to the stronger jaws of larger dogs.
More squirrels, more engaging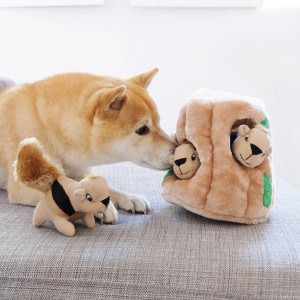 Outward Hound Hide A Squirrel ($17 at the time of publication)
Many pooches have trouble paying attention to squeaky toys for more than a few minutes at a time, but the more challenging setup of the Outward Hound Hide A Squirrel, the three squeaky squirrels in a tree-trunk-shaped pouch will keep them going for hours. It's quite a challenge for your pup to play with this mentally-stimulating interactive puzzle toy. They'll be encouraged to problem-solve while playing with these boredom buster puzzles.
An inexpensive plush your pup will adore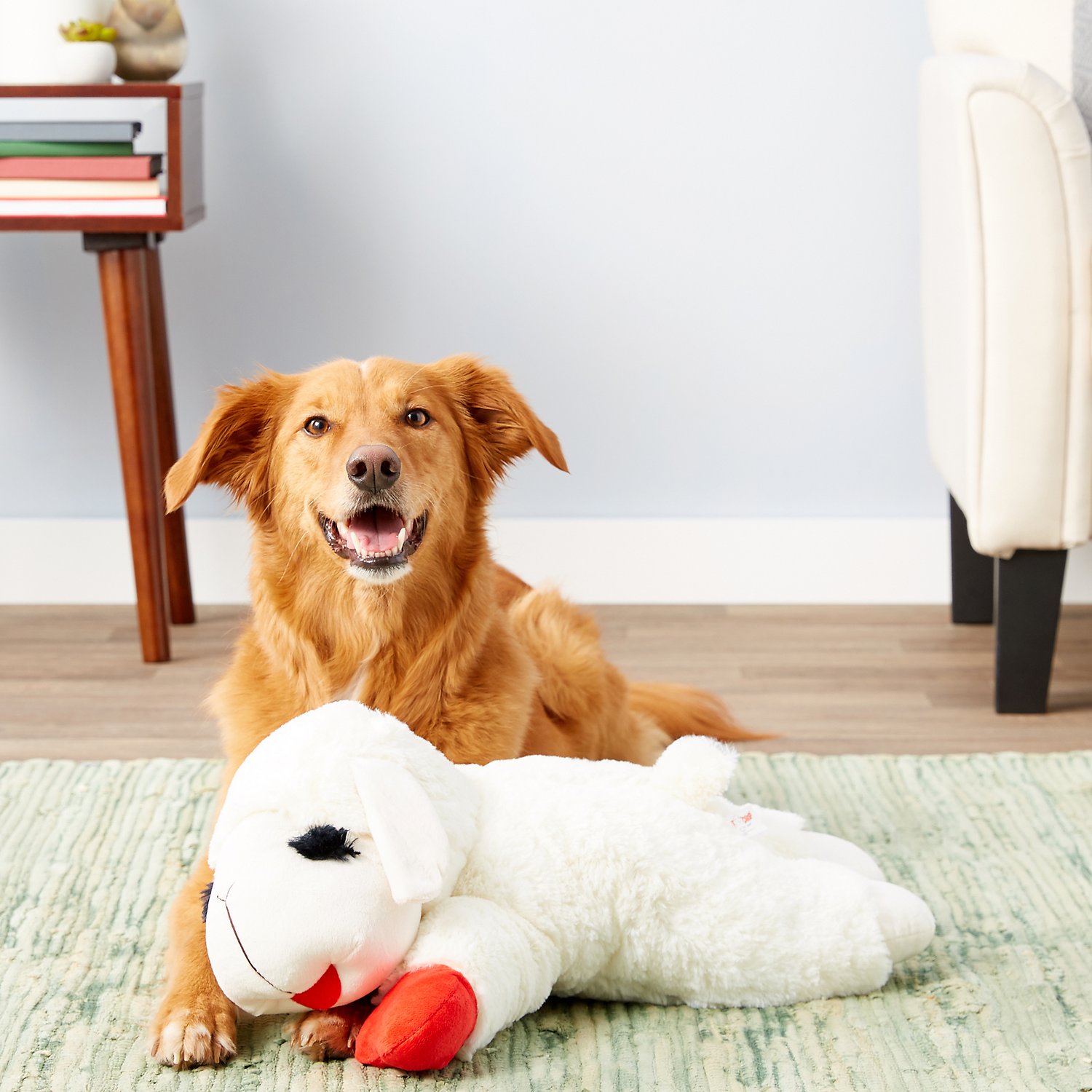 Multipet Lamb Chop Squeaky Plush Dog Toy (starting at $3 at the time of publication)
The Multipet Lamb Chop Squeaky Plush Dog Toy, or "Lamby" is a simple, soft dog toy that squeaks. Nostalgic for you and big, adorable fun for your dog, Lamb Chop will be an instant favorite. Whether your dog is into fetch or happily squeaking the toy, this beloved character brings along instant joy. Lamb Chop a super soft exterior that is great for cuddling when playtime is over.
A durable Frisbee that withstands rough play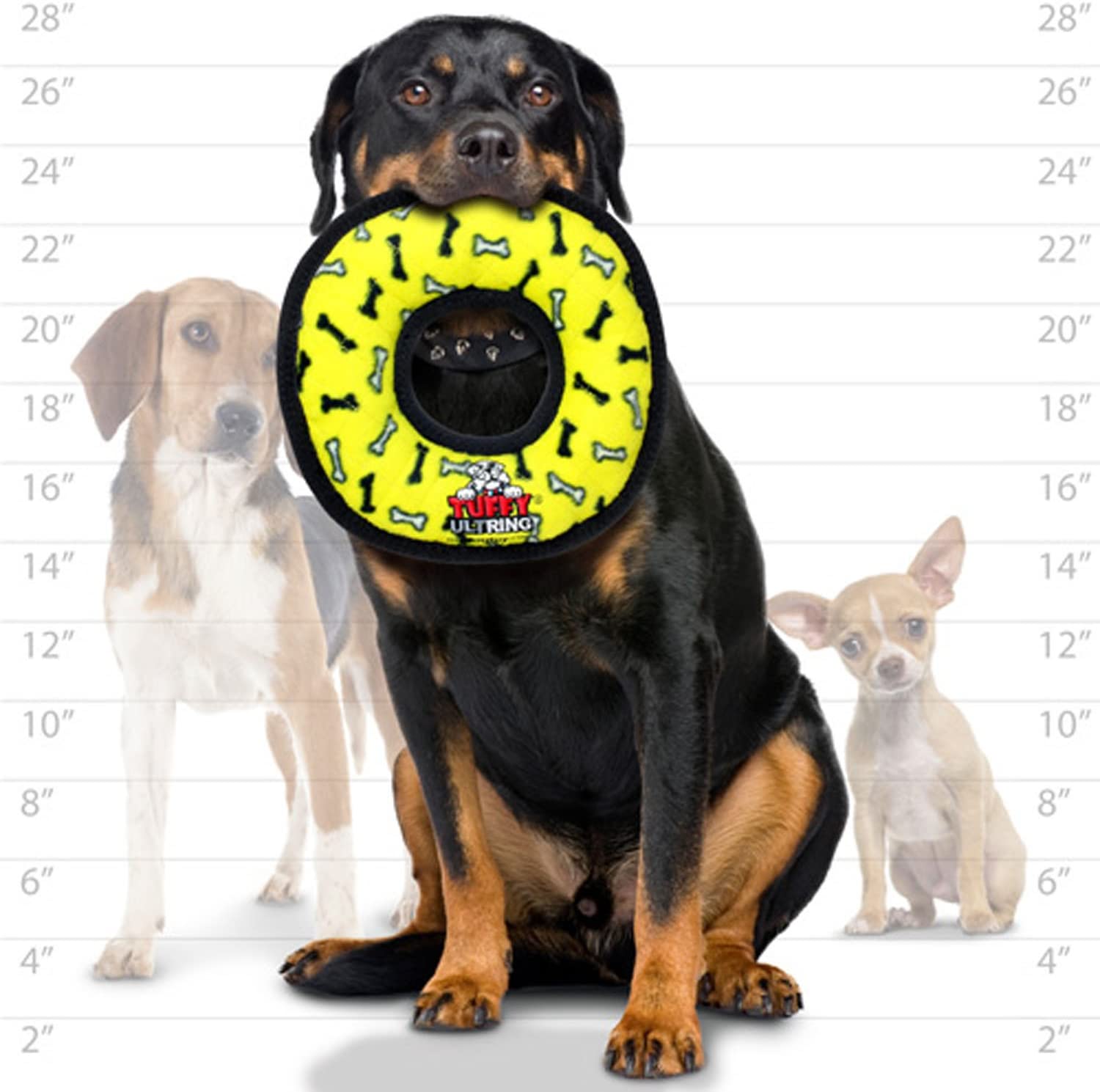 Tuffy's Ultimate 4Way Ring Dog Toy ($13 at the time of publication)
Tuffy's Ultimate 4Way Ring Dog Toy is a plush, Frisbee-like ring that comes in different sizes and colors, with some heavy-duty stitching around the edge and multiple squeakers inside. The easy to grip handles allow you to play tug-o-war with your dog without the risk of getting too close to your dog's teeth. Holds up to endless hours of tugging!
Pet Anxiety Relief and Calming aid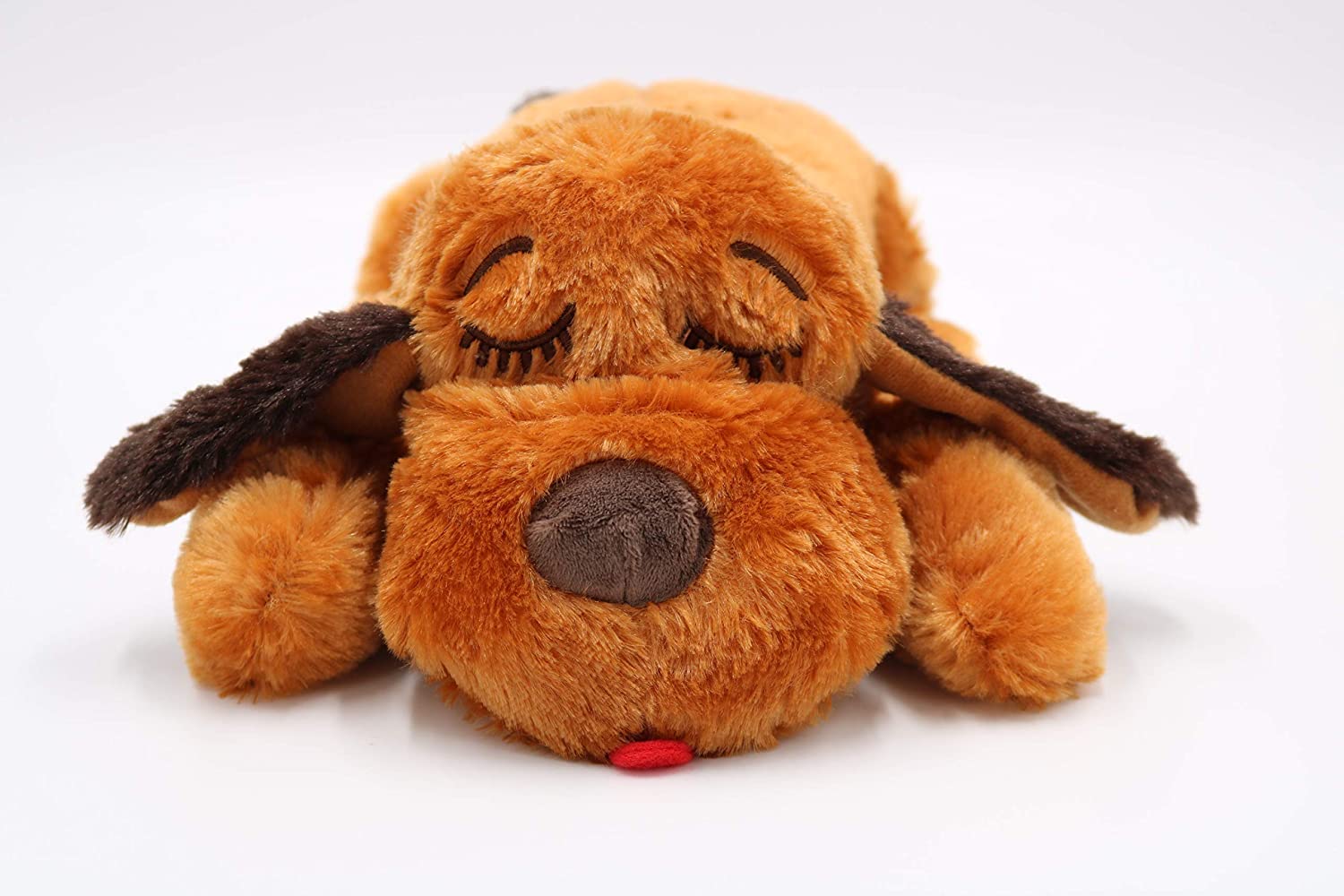 Snuggle Puppy Heartbeat Stuffed Plush Dog Toy ($40 at the time of publication)
The Snuggle Puppy recreates maternal intimacy with physical warmth and an Advanced "Real-Feel" heartbeat with 2 modes (8-hour setting/24-hour setting) which helps ease loneliness, fear and separation anxiety. It helps with crate training by reducing negative behaviors such as whining and barking, which also helps YOU sleep at night. It also helps pets transition to their new home and reduces stress caused by fireworks and thunderstorms.