<!– 336×280 ad unit –>
A woman abandoned a Yellow Labrador Retriever at a park in Vancouver, Washington, and the entire incident was caught on a nearby home surveillance camera.
The video shows the woman pull up to Orchards Community Park in a Tesla around 8:20 on Thursday night.
She got out of the driver's seat and let the dog out of the back seat. She then took the collar and leash off the dog and got back into the car to drive off.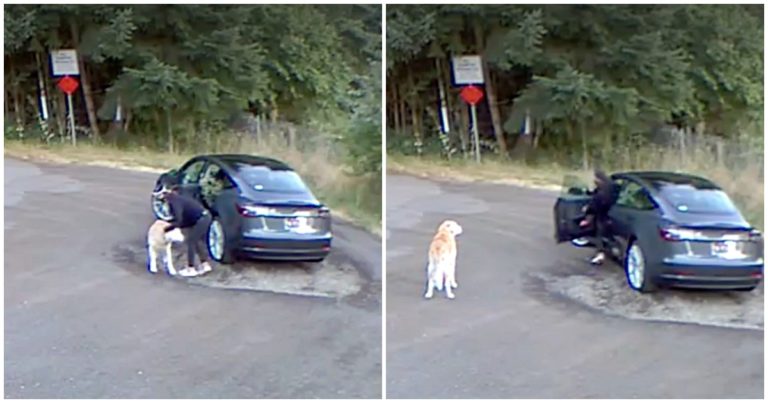 Suddenly, she got back out of the car to walk the dog into the woods. The dog wagged his tail and thought he was going for a walk, but once they got to the wooded area, the woman left him there and ran back to her car to drive away.
Surveillance footage then shows the dog walking back out of the woods to look for his owner, but she had already driven off.
Alyssa Ott, the owner of the surveillance camera, couldn't believe her eyes when she watched the video.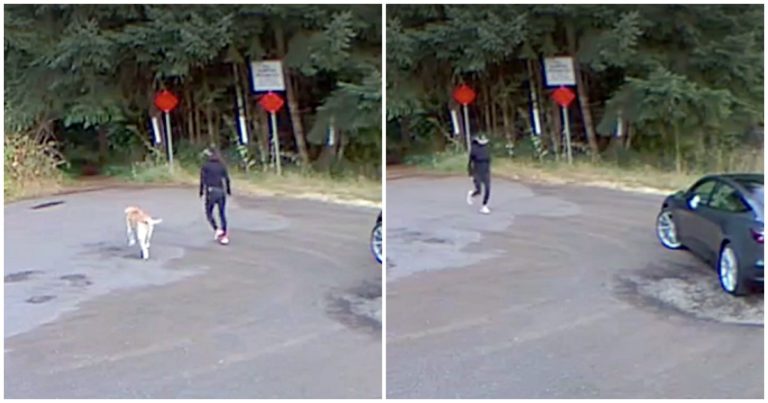 "What she did when she took the collar off and pet the dog and threw the collar into the vehicle is a sign for me it's likely her dog and she didn't want there to be a way to trace it back to her," Jakubs told KGW8.
"Somebody that's just going to dump a dog would have just left, they wouldn't have thought twice about getting back out and making sure he goes into the park."
She immediately called a friend to help bring the dog in and contacted I Paw'd It Forward, a nearby dog rescue, for help.
Keri-Lyn Jakubs, founder of the rescue, agreed to take the pooch in and picked him up right away. He has since been transferred to the Southwest Washington Humane Society, where he is safe and being well-taken care of.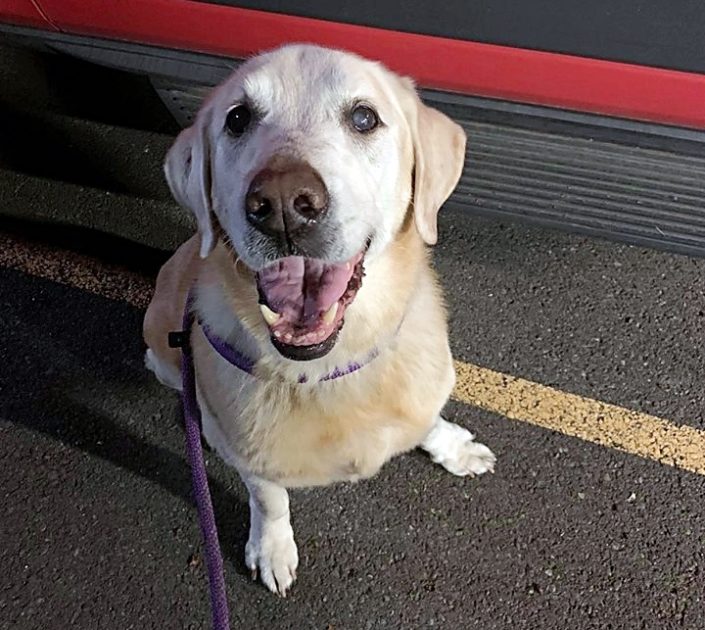 Clark County Animal Protection and Control is now investigating the incident and asking the community for help in identifying the woman or the dog.
The woman had shoulder length brown hair and was wearing a hat and driving a Tesla. She could potentially face a misdemeanor or civil infraction for animal cruelty.
Once the investigation is complete, the sweet dog will be available for adoption.
If you have any information on this case, please call 564-397-2488 or e-mail animal@clark.wa.gov.
H/T to KGW8.
Please 'SHARE' to pass on this story to a friend or family member
Dog dumped by his owner at Orchards Park in Vancouver, WA

******UPDATE: Listen folks, the woman that did this is not some woman named Dominique. Whoever started sharing that photo and accusing this woman of doing this, needs to STOP, remove their posts, apologize to her profusely and hope that she does not SUE you for defamation and libel. Come on. ******Update 12:49am 8/8/20We believe we have been able to identify the owner. We will update as we have more information! Thank you everyone for your incredible leads and tips!****Update: So many great leads and anonymous tips! Thank you everyone. Stay tuned, more news to come as this all unfolds. We appreciate ALL of your efforts, leads, and most of all, love for this dog. *****This woman thought the best way to get rid of a dog, was to take him to Orchards Park in Vancouver, WA tonight and leave him there to watch her drive off in her Tesla with Oregon Plates.If you recognize this woman, her Tesla, or her dog, please contact us immediately. 833.360.7293. The dog is an older yellow lab. If you know a woman that drives a Tesla with Oregon Plates, who likes to wear spandex pants and owned a Yellow Lab, please, contact us PRIVATELY with any information.**************All, please know the dog is safe and not available for adoption at this time. This dog will not be available pending an investigation into what happened. We know this tugs at our heartstrings, but please know he is safe and being cared for. We will do our best to update if/when he becomes available.**We have the dog, the dog is safe.***Video Credit @Alyssa Ott and @Brandon Price

Posted by I Paw'd It Forward on Thursday, August 6, 2020