<!– 336×280 ad unit –>
If you are looking for a new pet it's always better to adopt animals from shelters. Animals come in to shelters every day and the staff often have limited resources, so it's important to clear the shelters by finding homes for the pets.
It's even better if you are willing to take in an older dog who has been there for a long time. This can save them from being euthanized by kill shelters—or at the very least, you'll be giving them some long-awaited love and care.
It takes a special person to rescue these dogs, but one woman went above and beyond when a rescue trip to the shelter took an unexpected turn.
Shelly Blount, from Virginia, is very passionate about saving dogs. While she owned three rescue dogs already, she was touched by a post about a dog who was going to be put down at a North Carolina animal shelter.
According to The Dodo, that first dog ended up adopted—but she was still inspired to help, and inquired about the next dog at risk of euthanasia.
That dog was Caleb, the only dog at the shelter with no adoption inquiries, who was set to be put down at the end of the month if an owner wasn't found.
"He is very sweet they said," Shelly wrote on Facebook. "Just walked past because he is almost 6."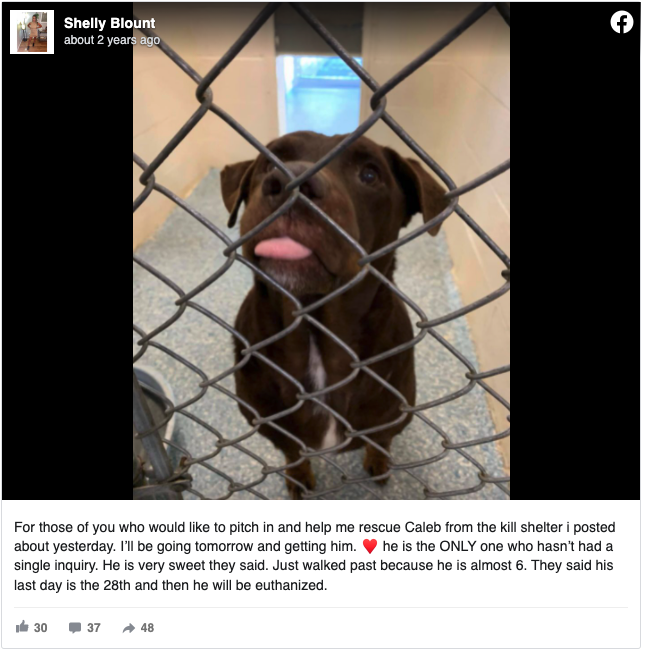 Shelly set out to adopt Caleb herself. She drove four hours to North Carolina to save the dog.
Which would've been amazing enough… but when she got there, she realized that there were actually two other dogs at the shelter—Charisma and Bella—who were also going to be put down.
There was only one thing to do: "I asked the limit on how many you could adopt," Shelly told The Dodo. "They said there wasn't one."
"So I decided to get all three."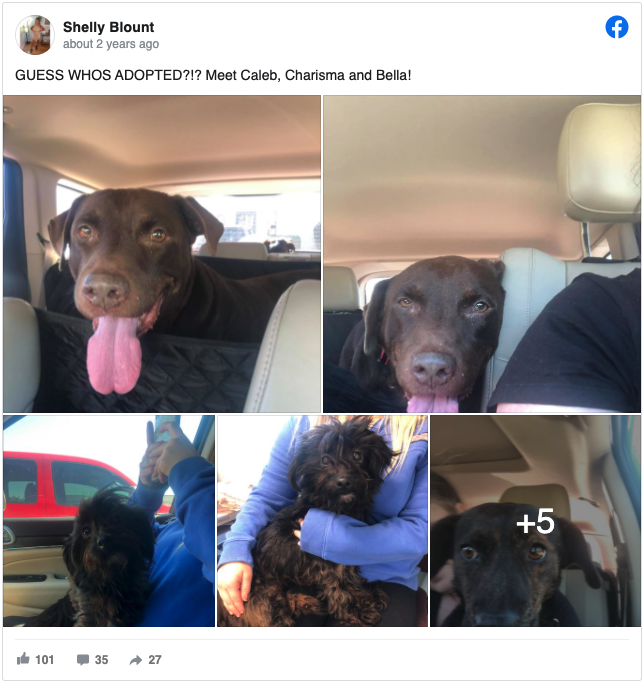 The three dogs had an amazing freedom ride away from the shelter.
"Caleb was sooo excited — kept giving kisses from the back seat, and his tail was wagging so fast," Shelly said. "Bella was so content being held so she sat in my friend's lap and literally didn't move."
"Charisma, my sweet little angel, was literally hugging me and slept the entire ride."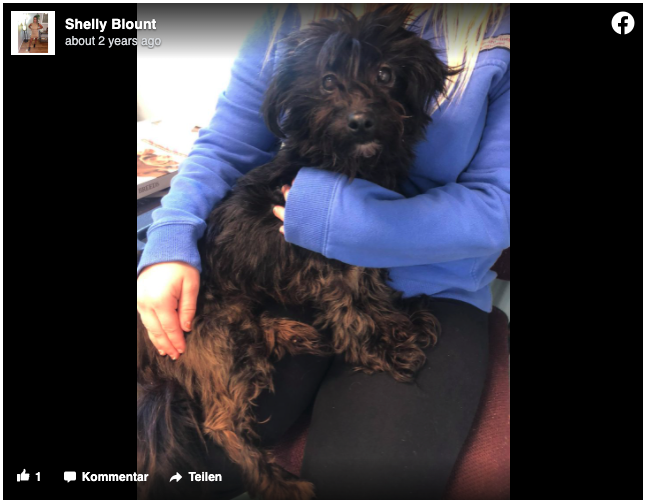 Needless to say, it was more than she bargained for when she first set out to adopt Caleb.
So how did she manage adding three more dogs to her household? She didn't: instead, she made sure the dogs all got good homes with the help of her friends.
Caleb was adopted by a friend of hers, while Bella went home with her boyfriend: "Let's just say they are inseparable," Shelly said.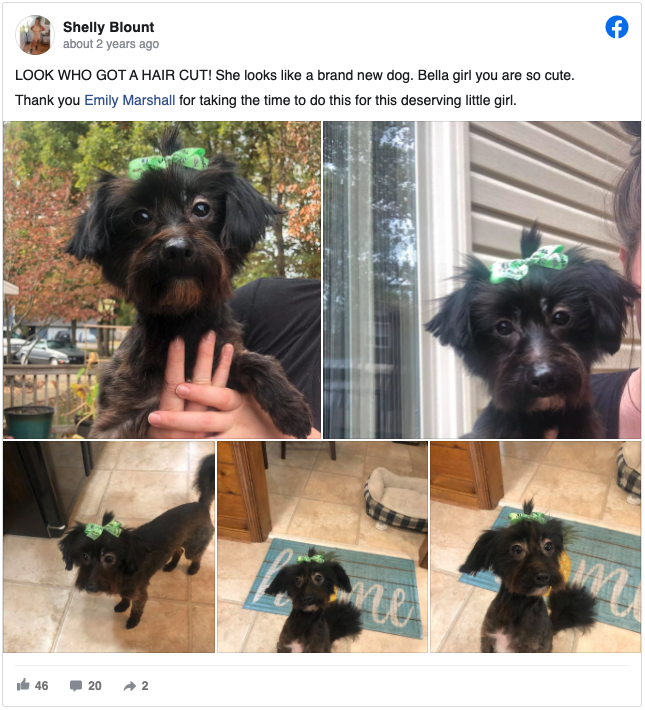 But Shelly did decide to keep Charisma for herself… and discovered yet another twist in the story.
"Sooo we may have saved more than three lives yesterday," Shelly wrote on Facebook. "I think this mama is pregnant!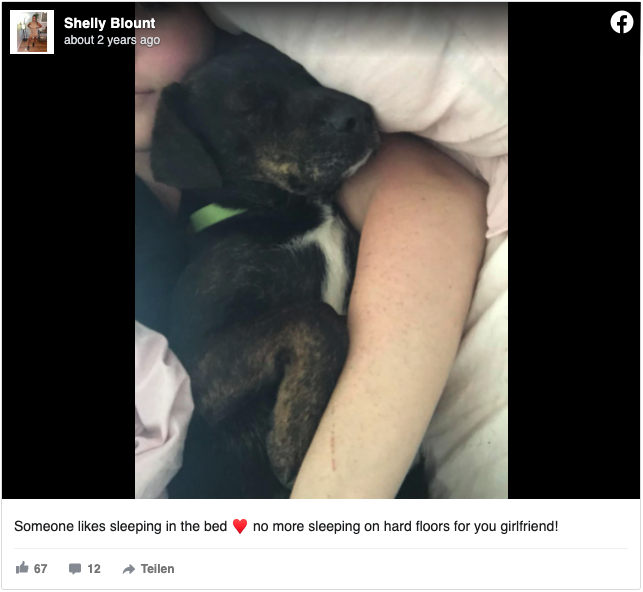 Unbeknownst to Shelly or the animal shelter, Charisma was pregnant, and is scheduled to give birth to puppies soon.
Shelly has been taking good care of her dog, giving her love and support. She has been keeping tabs on her pregnancy and will be ready when she gives birth.
"My Charisma girl is very attached to me and we take lots of cat naps because she's so sleepy," Shelly told The Dodo.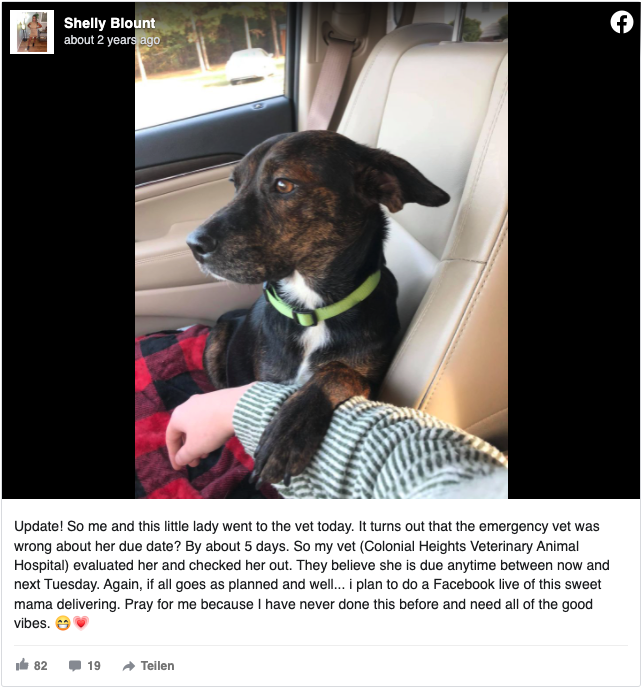 It's amazing how a trip to save one dog has saved so many lives! Thank you to Shelly for all her work! Remember to rescue animals from shelters!
Share this amazing story!