<!– 336×280 ad unit –>
Birthdays are very special, especially for kids. Each year, they think of the most awesome gift that will make them the happiest. I get a list as long as my arm from my kids but all this boy wanted was to adopt his foster dog, Amelia.
As the birthday boy approaches his mom's car, he's anticipating a bike, since that was what he had asked for if he couldn't have Amelia. But his mom has something in her hands that's WAY better than a bike!
OH MY GEE, is that Amelia??? And she's wearing a bow??? AWWW!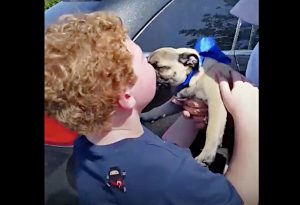 I think this adorable boy will remember this birthday for the rest of his life. His tears of joy are remarkable. What do you think?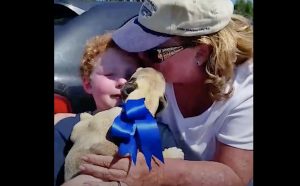 Foster parents are an essential part of helping homeless dogs find forever families. Sometimes they're "foster fails" and that's okay by me! This little boy and his family may have technically failed with transitioning Amelia from foster to forever home but sometimes failing is the best course. Just watch the video and you will see why!
Please 'SHARE' to pass on this story to a friend or family member