<!– 336×280 ad unit –>
Bulldog Ellery Max was born with a rare deformity – he had an extra leg! Vets didn't think he would even make it past a few hours.
Even his breeder didn't think it was worth raising him. But Ellery fought on, and eventually ended up in a local shelter in Southern California.
Source: The Dodo/YouTube
When Laura Lee Labelle from The Labelle Foundation heard about Ellery, she immediately decided to foster him. Laura went the extra mile to make sure that Ellery had a fair chance at life.
Ellery had many developmental delays. He opened his eyes after 3 long weeks. He wasn't able to ingest formula too.
But Laura kept on pestering him until he swallowed the food. Her efforts bore fruit, as Ellery started growing up like a healthy puppy within the next few months!
As Ellery started getting bigger, his extra leg stopped growing. It would just dangle on his backside, making it difficult for him to move around.
So when Ellery was strong enough, Laura got the extra leg surgically removed.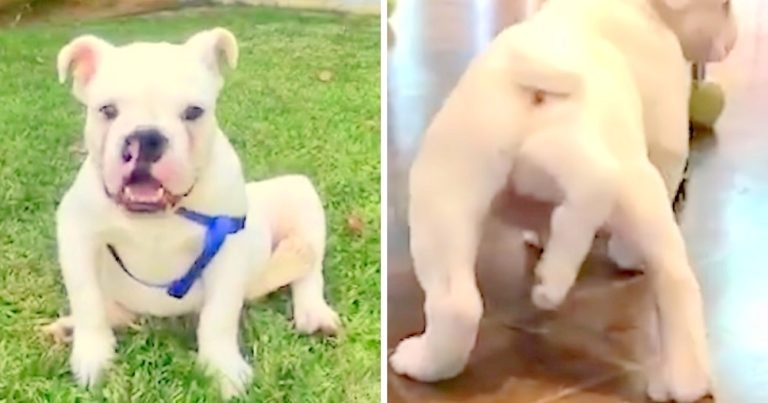 Source: The Dodo/YouTube
Ellery is very much a normal pup now, but to Laura, he will always be extra special. Ellery loves being the boss dog of his foster home and always welcomes new friends with open paws.
He still longs for a home of his own though. You can apply to adopt him by clicking here => Road Dogs & Rescue.
Share Ellery's story of survival and help him find a forever home!
Check out the video below to watch Ellery's difficult journey and how he became a spunky dog on his own!